Award-winning, eighteen-terabyte BCU data warehouse featured in latest DB2 Magazine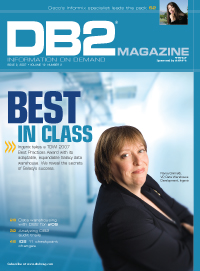 DB2 Magazine: Volume 12, Issue 2

IBM's balanced configuration unit methodology for designing and sizing data warehouses may not absolutely guarantee a successful implementation, but it does go a long way toward simplifying the process. The cover story of the latest issue of DB2 Magazine chronicles the path taken by Ingenix to implement Galaxy, the name they gave to their TDWI award-winning enterprise data warehouse.

In other news, IIUG President Stuart Litel reveals that they're tired of us DB2 nerds and are taking their ball and holding their own Informix-only conference next April near the big Informix lab in Lenexa, KS. Sorry you feel that way, guys. You were a fun bunch.
Speaking of conferences, Howard Fosdick drops an interesting factoid in his certification column: over 60% of IDUG conference attendees are not DBAs. I knew there was something suspicious about those folks.
If you didn't get a printed copy of DB2 Magazine this month, then you have no choice but to go here to check it out.